I hope this is okay to post, I didn't see anything in the community info about selling things not being allowed.

I'm selling a size 26 Alfred Angelo wedding gown that I never got to wear. Details (and large pictures) are below the cut.



This is a size 26 wedding gown I bought in February 2006 for my October 2007 wedding. Unfortunately, in the interim, I gained a lot of weight from a new medication that made me too big for the dress. I don't have the exact measurements, but when I was sized, my bust and waist were 54inches and my hips were 50 inches. It was shipped brand new from the manufacturer and was only tried on twice. It's been kept wrapped in a white sheet within a white David's Bridal garment bag since I received it. It has no stains or imperfections and has been kept in a smoke-free, pet-free home. I would love to see somebody else have a chance to wear it. The cut and style would look good on anybody, but it is especially good in hiding big middle sections or hips.

In this price, I am also including the crinoline I purchased to wear under this dress. It's an adjustable size (tie waist) and fit me even after I couldn't fit into my dress. It could also fit a much smaller size. I DID wear the crinoline on my wedding day, but that's the only time it was ever worn.

The dress itself retails for $375. I paid close to $500 for the dress, crinoline and shipping costs.

Description
Alfred Angelo Style #1505W size 26
White
Satin embroidered bodice (crystal and pearl beading and iridescent sequins)
Skirt is satin with chiffon overlay
Princess Line Dress
Strapless Bodice (optional spaghetti straps are still attached in their bag)
Empire waistline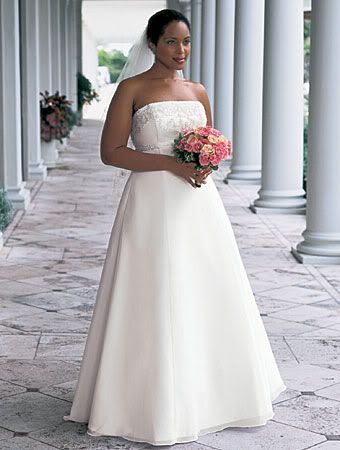 Picture from Alfred Angelo website.



Detail shot of bodice.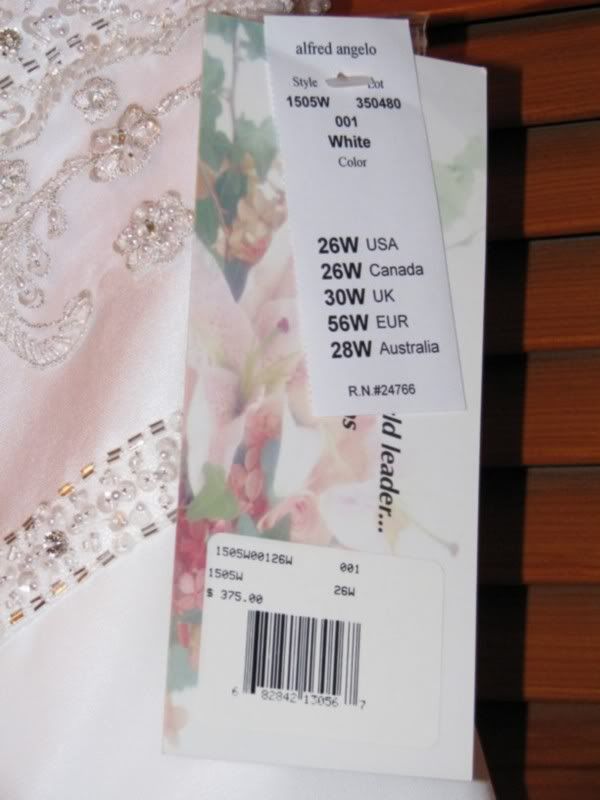 Original tags and super close-up of beading.



View of detail in back.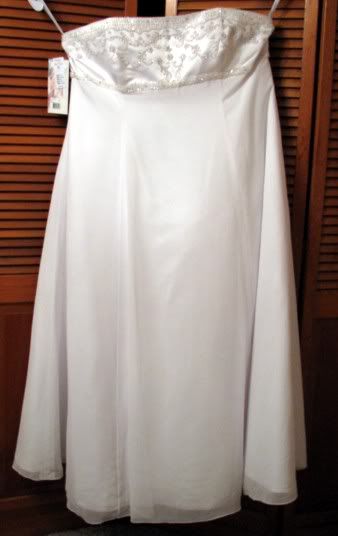 Front view of entire dress.


You can also see the dress on www.alfredangelo.com. Click on United States and fill in the style number I provided in the bottom right hand corner.
Payment
I'm asking $350 for the whole package - dress, garment bag, crinoline and shipping, but I'm willing to negotiate. I will accept cash in person or pay-pal.
Pick up/Shipping
I will travel within 15 miles to meet up for sale (I'm in Northeast Philadelphia). If you're in the United States, I'll throw in shipping at no cost after your pay pal transaction has cleared.
You can contact me through a comment or at metallichick8778 at aol dot com if interested.